Recently, I've been discovering the world of cocktails. I usually never ordered them while out to dinner or out for drinks because it was hard for me to envision how it would taste. I've always tried my mom's martinis and rarely ever liked them. They never tasted like much more than vodka. Then I became a beer gal, which was Tim's influence, trying different beers and discovering what I liked. But now that it's summer, I've be trying out fruity cocktails. They just seem so special.
I stumbled upon Cindy's wonderful blog, Hungry Girl por Vida, and her recipe for Blackberry Ginger Smash. Upon reading, I learned that a smash is a cocktail made by muddling mint and sugar, and maybe adding some kind of fruit, and booze and soda. Sounds like everything I want in a cocktail! In my recipe, I left out the sugar because it becomes way too sweet, but you do as you please. Here we go.
Blueberry Lime Smash
makes 1 drink
handful of blueberries (about 20 or so)
4-6 mint leaves, depending on the size
half a lime
2oz vodka (or more if like your drink with some bite, I did.)
berry flavored zero-calorie sparkling water (or soda water)
You could either make this drink directly in the glass or in a shaker. If you don't mind having chucks of fruit and mint in your drink, make it in the glass. I prefer to strain that out so chunks don't get stuck in the straw. I am anti-chunks. Especially if it's chunks of fruit. Bleh.
In a shaker, muddle blueberries, mint, and a squeeze of lime juice until the mint is bruised and all the berries broken up. Add vodka and ice, shake.
Strain into a lowball glasses. Fill the rest of the glass with the flavored sparkling water. Finish with another squeeze of lime juice, and garnish with a few whole blueberries and a lime slice. Bam. New favorite at-home cocktail.
Part of the fun with cocktail recipes is you can change things around so they fit your specific tastes. More or less mint, a different kind of berry or fruit, gin instead of vodka. The possibilities are pretty limitless.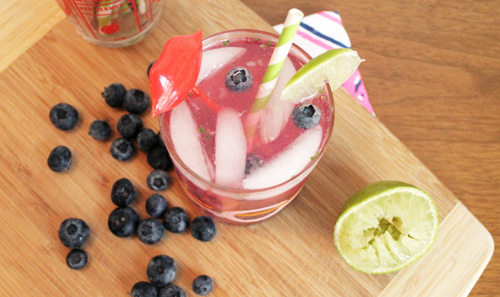 These would also be very easy to make in a large batch for guests or a party. Tim and I are kind of obsessed with those zero-calorie flavored sparkling waters. We usually pick up 5-6 of them each time we go to the food store. There are so many different flavors and they're like 50cents a bottle! We usually buy the store brand and they're found in the water aisle.