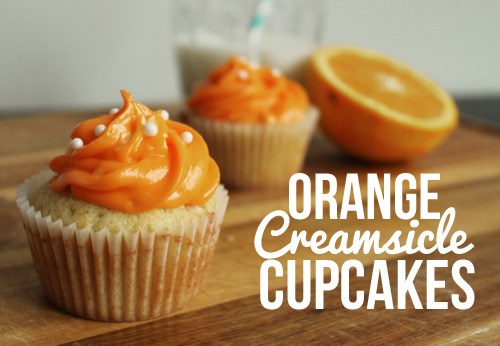 I put together this Orange Creamsicle Cupcake recipe as a guest post on Megan's lovely blog, Homemade Ginger. Make sure to swing by her blog and click around; it's filled with recipes, projects, and genuinely cute stuff all around. Love it!
You can also find the recipe below, for those viewing here. Yum!
Orange Creamsicle Cupcakes
Yields 48 cupcakes
2 ½c flour
2tsp baking powder
½ tsp baking soda
¼ tsp salt
½ c vegetable oil
1 tsp vanilla extract
1 stick unsalted butter, room temperature
1 c sugar
3 eggs
¼ c milk
juice from an orange
zest from an orange
In an electric mixer, cream butter and sugar until combined and fluffy. Add each egg, one at a time. Add oil, vanilla, orange juice, and orange zest. Combine.In a separate bowl, sift flour, baking powder, baking soda, and salt.
Add dry ingredients to the butter mixture, alternating between dry and milk. Only mix until combined so you don't overmix. Overmixing=dry cupcakes.
Fill each cupcake liner maximum 3/4 full. Bake for 15-20 minutes. After 15 minutes, keep a very close eye on them as you want them to stay pale on top, but still set inside. Once they are cooled completely, remove the center of each cupcake with a pairing knife.
Cream Cheese Frosting
Yields enough for more than 48 cupcakes
1 8oz package of cream cheese, softened
1 stick of unsalted butter, softened
3c powdered sugar
1 tsp vanilla
orange food coloring
milk, as needed
Cream butter and cream cheese together until combined and fluffy. Slowly add powdered sugar and vanilla. Add milk has needed to get the perfect consistency. If you want to pipe the frosting, try not to loosen it too much.
Separate the frosting into two bowls, dying one orange and leaving one creamy white. Using a pastry bag and tip, pipe the white frosting into the centers of the cupcakes. Using a different pastry bag, pipe the orange frosting onto the top of the cupcakes. I piped mine with a 1M Wilton tip, but anything will really do. If you are good with an icing spatula, that would look great as well!
These are best is served within a day or two. You don't want to let that cream cheese frosting sit around too long.