Sometimes, I think up recipes because I'm hungry and can't stop thinking about what I would love at that moment. This was one of those recipes. I was just sitting at work on a slow day thinking about sweets and this idea came over me and I went home and made them. These are a cookie game-changer.
Now, I should say that I'm not usually a huge sugar cookie kind of gal. I'll take a snickerdoodle or maybe even chocolate chip over a standard sugar cookie any day. But these aren't your standard, run-of-the-mill, cookie cutter sugar cookies. They are soft and creamy and even border on doughy, in the best way possible. After searching around online and in some baking books, this recipe is a pretty standard one for soft sugar cookies. And since sprinkles make everything better, I decided to spice of the standard to make funfetti cookies!
Here we go...
Soft, Funfetti Sugar Cookies
Yields about 40+ cookies, depending on size
10 tbsp unsalted butter, room temperature
2/3c vegetable shortening
1 1/2c sugar
2 eggs
1 tbsp vanilla
2 tsp baking powder
1tsp salt
3 1/3 flour
3 tbsp rainbow sprinkles or nonpareils
Preheat oven to 350 degrees.
Cream butter and shortening with an electric mixer. Add sugar and mix until light and fluffy. Add eggs one at a time and vanilla.
In a separate bowl, sift flour, salt, and baking powder. With your mixer on low, add dry ingredients to the butter/egg mixer. Using a spatula, fold in sprinkles.
Drop rounded tbsps of dough onto a baking sheet lined with parchment paper or a silicone baking mat. Bake 8-10 minutes or until bottoms just begin to brown.
The trick is to not over bake them, or you won't get that super soft texture. I baked mine 9 minutes and they were just slightly brown on the bottom.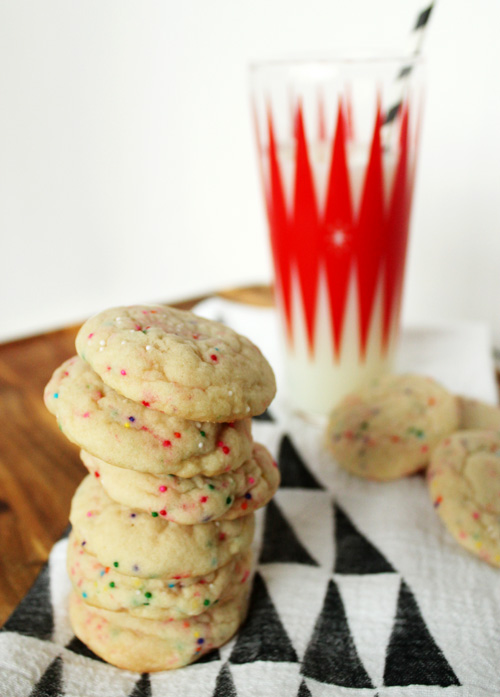 Thinkg about the possibilities! You could use a basic buttercream to make these little guys into cookie sammies, or maybe even dip half of them in chocolate for the chocolate lover in your life. It's a challenge to not eat all of them. After eating half the batch, I then took mine to a party only to get them out of our house.