These Candy Corn Cupcake Toppers are great for your Halloween parties, or maybe just to want to make someone feel extra special when you give them a plate full of Chocolate Peanut Butter Cupcakes. Whenever you chose to do with these toppers, they add a cute little something-something to embrace the fall spirit.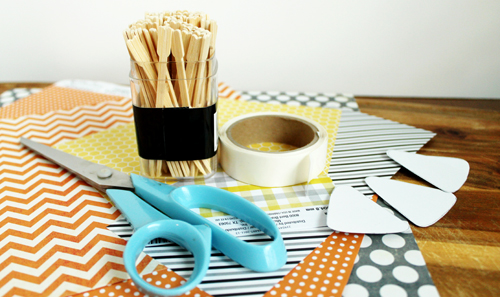 For these toppers, you'll need toothpicks; orange, yellow, and white printed scrapbooking or cardstock; plain cardstock; scissors; and glue dots or glue stick.
Cut out a candy corn shape out of the plain cardstock. Mine was about 1 1/2 inches tall. I cut one out, and then used that as a stencil to make a half dozen more that were the same size.
Start with your white patterned paper and cover the top third in the paper. I applied my glue dot to the plain paper, and then stuck it to the sheet of patterned paper and cut the shape out that way. This provides a straight edge and less cutting than cutting out a small section, then gluing, then cutting again.
For the center orange section, cut out a strip that's as tall as a third of your candy corn shape, glue, and trim to the right size.
For the yellow section, line up your yellow paper and glue the entire paper down. Trim to size, similar to adding the white section.
Ta-da! Quirky patterned candy corn shape! How cute is that? Mixing patterns is part of the fun.
Apply some glue to the toothpick and glue to the back of the candy corn. If you are using an actual normal-sized toothpick, use some kind of liquid glue (tacky glue or Mod Podge) to glue toothpick to the back of the candy corn. Cut a small strip of paper and apply over the toothpick, creating a foundation for the toothpick to stick to. I hope that makes sense...
Stick those babies where they belong... I just love the mix of patterns!
This is a great project to use up some scrapbooking paper scraps or even extra fabric that's been sitting around your craft cabinet. Or at least, that's where I found my paper. And those toothpicks can be found next to the regular toothpicks in the supermarket. Since I have an entire container of them now, I'm sure more cupcake toppers are in the near future. They're just so cute and fun!