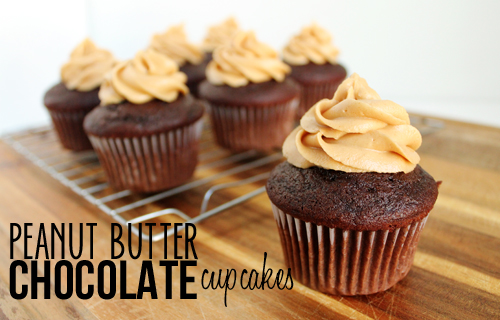 In celebration of Tim's birthday weekend last weekend, I made some Peanut Butter Chocolate cupcakes for a family birthday party. Chocolate and peanut butter are a classic combination and usually, quite a crowd pleaser. Making cupcakes from scratch is really just as simple as making them from a box, but they taste a thousand times better. And this peanut butter frosting is a killer.
Chocolate Cupcakes
Yields 24 cupcakes
1 1/2c granulated sugar
1 1/2 sticks of unsalted butter, room temperature
3 eggs, room temperature
2c flour
3/4c cocoa powder
1tsp baking soda
1tsp baking powder
1/8tsp salt
2tsp vanilla
1c buttermilk
Preheat oven to 350 and place liners in a cupcake pan.
Cream butter and sugar with an electric mixer until fluffy. Add eggs one at a time, Combine. Add vanilla.
In a separate bowl, sift flour, cocoa powder, baking powder, baking soda, and salt. Add dry mixture to the butter mixture, alternating between dry and buttermilk. Only mix until combined so you don't overmix. Overmixing=dry cupcakes.
Fill each cupcake liner with until 3/4 full. Bake for 15-17 minutes until toothpick inserted comes out clean. Let cool completely before frosting.
Peanut Butter Buttercream
Yields enough for 24 cupcakes
1 1/4c creamy peanut butter
1/2c softened butter
2c confectioners sugar
1tsp vanilla
2 tbsp milk, as needed
Cream together peanut butter and butter until fluffy. Slowly add sugar and vanilla until combined and there are no more lumps. Add milk as needed to thin frosting until it's smooth enought to easily pipe through a piping bag. Be carefully not to thin too much.
You can either apply frosting with an offset spatula, or pipe onto cakes. I used a large star tip to pipe these.
If you wanted to make these extra special, cut out the center of each cupcake and pipe the peanut butter buttercream into the center. Then, top with a chocolate buttercream! Easy peanut butter cup cupcakes!